5 x 8' Nyl-Glo US Army Flag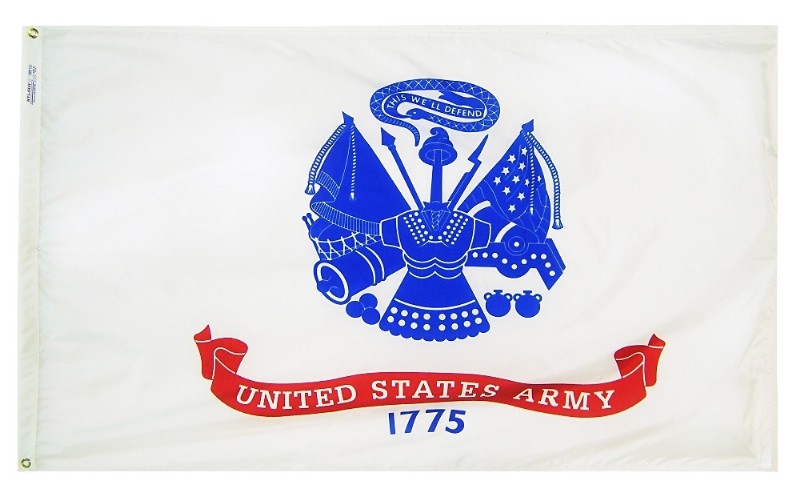 Annin Flagmakers

Made in the USA! This is an AUTHENTIC Annin Flagmakers flag. SINCE 1847- the OLDEST and LARGEST manufacturer of flags. Made in our factories in South Boston, VA or Coshocton, OH by one of our OVER 500 employees. Don't accept an imitation!

Be a Part of History! Annin made the flag that draped Abraham Lincoln's casket, the flag raised on Iwo Jima and the US flags sent to the moon. Own a piece of history by the HIGHEST QUALITY manufacturer of flags- Family owned for OVER 167 Years.

Quality! Expertly printed and sewn using Annin's 200 DENIER NYLON fabric in our Virginia factory with our exclusive SolarGuard™ dyes. PROVEN to last the longest and be the BRIGHTEST. DURABLE fabric flies in the lightest breeze. Blocks damaging UV rays.

Expert Craftsmanship! Our expertise in advanced digital and screen printing uses a three step process to penetrate our custom dyes into durable weather-resistant nylon. We then steam set to activate the color and lock it into the fabric.

Annin Presentation Box! Each flag ships in an OFFICIAL ANNIN FLAGMAKERS presentation box. Makes an excellent gift to PROUDLY display in Support of our Service Men and Women.
Long Product Description
The flag for the United States Army was created in 1956. It has a white background with emblems in blue and red -- national colors. The design was based on the Army seal adopted in 1779 by the Continental Congress. It includes a cuirass (breast plate) that represents the Army defending the nation. There is also a liberty cap of the type used in the Roman Empire and a pike carried by certain military officers. Cannon, cannonballs, a mortar, powder flask, and a rattlesnake (such as appeared on some Revolutionary War flags) complete the design. The date at the bottom (1775) indicates the year the United States Army was officially established. All Annin Flagmakers flags are sewn in either South Boston, VA or Coshocton, OH. Annin's superior quality is time-tested and meets the requirements of the most discerning buyer. Nyl-Glo, Tough-Tex and Bulldog are registered trademarks and manufactured exclusively by Annin Flagmakers.