3 x 5' Nyl-Glo Gadsden Flag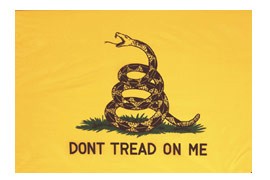 The traditional "Don't Tread on Me" Flag is a classic American flag, which is also known as the Gadsden flag. It was designed by and named after the American general and statesman, Christopher Gadsden.



<ul>
<li>Measures 3 feet by 5 feet</li>
<li>Made in the USA by Annin & Company since 1847</li>
<li>Made of all-weather nylon</li>
<li>Large brass grommets</li>
</ul>
This flag is perfectly suited for outdoor use because of the durable nylon fabric. You can also hang this flag year round to show your patriotic, American spirit!