** filled with Eder Polymax or Valley Forge Koralex Until further notice **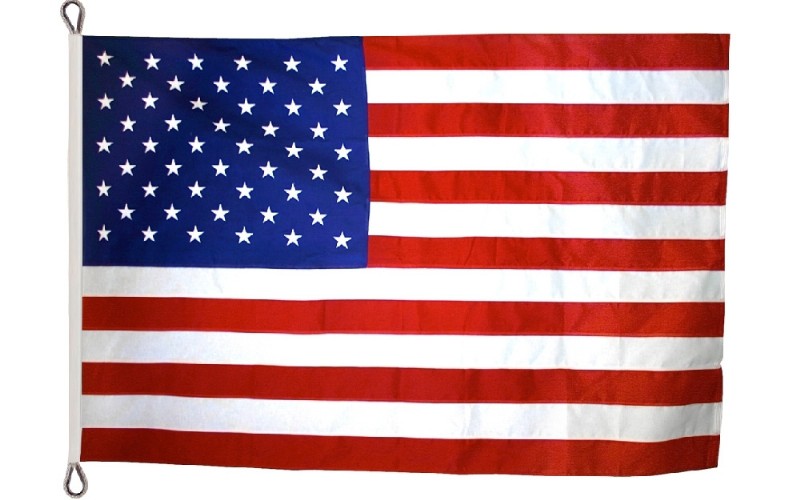 The World's longest lasting flag. For use on 30-40' Flagpoles. USA Made by Annin & Company, since 1847.
Be a Part of History! Annin made the flag that draped Abraham Lincoln's casket, the flag raised on Iwo Jima and the US flags sent to the moon. Own a piece of history by the HIGHEST QUALITY manufacturer of flags-FAMILY owned for OVER 170 Years.

Quality! Expertly sewn using Annin's HEAVYWEIGHT 2-Ply polyester weave. Tough All Weather US Flag with most DURABLE construction. PROVEN to last the longest. IDEAL for Large Flags and HIGH WIND situations. Blocks damaging UV rays.

Expert Craftsmanship! SEWN stripes using double-needle LOCKSTITCH with 4 ROWS on the Fly Hem and Back Tack reinforcement. Vivid WHITE STARS are densely EMBROIDERED for beautiful presentation. Two STRONG Brass Grommets.

Annin Presentation Box! Each flag ships in an OFFICIAL ANNIN FLAGMAKERS presentation box. Makes an excellent gift for friends, parents or to PROUDLY display on your HOME.

This American Flag, with sewn stripes and embroidered stars is extremely durable all weather flag. This U.S. flag is made from heavyweight spun polyester and engineered to allow wind to pass through, reducing the stress on the flag. It is the best outdoor flag for commercial or institutional use, high wind areas or daily use. Like all of our American flags, it is made in the USA. All of Annin Flagmakers U.S. flags are sewn in either South Boston, VA or Coshocton, OH. Homeowners, businesses, schools and municipalities currently fly U.S. flags made by Annin Flagmakers in cities, towns and neighborhoods across America. Annin's superior quality is time-tested and meets the requirements of the most discerning buyer. Nyl-Glo, Tough-Tex and Bulldog are registered trademarks and manufactured exclusively by Annin Flagmakers.