50 x 80' USA Endura-Nylon Flag with VS & RC ****12-16 week backorder **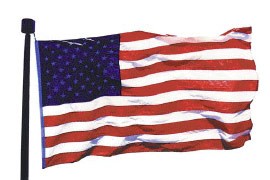 Our Endura-Nylon flags are crafted using aniline-dyed 100% heavyweight 200-denier nylon bunting. Endura-Nylon material is fast drying, treated to resist fading and flies in the slightest breeze. Finished with white poly-cotton header.
Includes ADDITIONAL zigzag stitching reinforcement: 4 vertical rows on fly end & zigzag stitching on fly end corners.